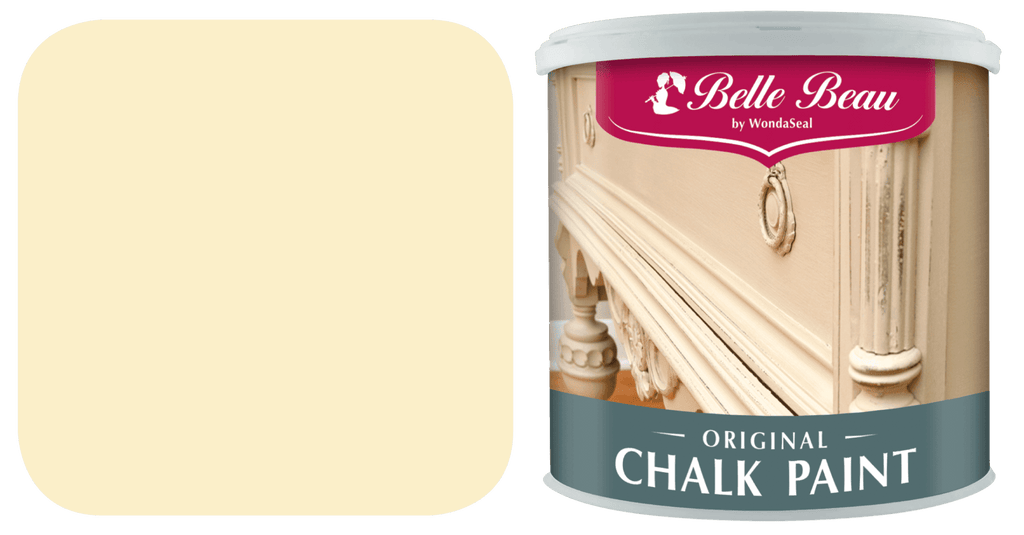 Belle Beau Original Chalk Paint 1L: Croissant Cream
---
Belle Beau Original Chalk Paint is a high quality, easy to use, water-based decorative dense matt paint designed to distress naturally over time with ColourRich™ pigments for deep, rich colours and AcroH™ fast drying activators.
Create stunning decorative works of art easily with furniture, walls and items made from a variety of materials.
For Use On: All types of interior and exterior furniture, walls and floors including surfaces made from fibre cement, stone, brick, wood, brick, plaster, metal, plastic and glass.
Works perfectly over old painted and varnished surfaces
Finishes: Chalk Paint gives a very matt finish and so a Finishing Wax is required to protect the surface, deepen the colour and give a distressed look.
Belle Beau SoftTouch™ Finishing Wax: Our SoftTouch™ Finishing Wax is a beautifully smooth wax that dries to a soft, velvety sheen for protecting furniture from liquid spills and cup ring stains.
The heat resistant properties also protect the furniture from hot objects.
Aged and distressed looks are achieved using the SoftTouch™ Finishing Wax as well as giving your painted surface a deep polished lustre and sheen finish.
Techniques: A variety of techniques is possible with Belle Beau Original Chalk Paint, such as:
Distressing using the Belle Beau SoftTouch™ Finishing Wax
Antiquing: Exposed surface to give a worn look
Contrasting where the 2nd coat is a contrasting colour to the base coat and sanded to expose the base coat
Bell Beau Chalk Paint Features:
Feature                                                Benefit
ColourRich™ pigments                      Deep and rich long lasting colours
AcroH™ fast drying activators           Quick drying time between coats
Water-Based                                       Easy to use and quick drying
Lead Free & Non-Flammable             Safe to use
Low VOC                                             Safe for the environment
Works on all surfaces                         No restrictions as to what you can paint
Coverage:
8 – 12m² per litre per coat depending on the porosity of the surface
LEAD FREE : Suitable for use on children's furniture and toys.
Methods of Application: Brush & roller for walls, for decorative effects use tools specially designed i.e. long pile, mohair, fine sponge or pattern roller.
Thinning: Do not thin
Clean Up: Clean all tools while wet with water after use
---
Share this Product